The Hassle-Free Dog Watering Way to Hydrate Your Pet!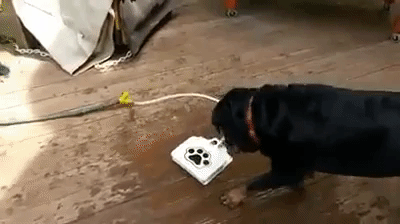 PREMIUM QUALITY WATER FOUNTAIN - Your dog can enjoy freshwater all day in a large, comfortable drinking area thanks to this free-flowing water fountain. The charcoal filter removes odors and bad tastes to keep the water tasting great!
 SAVE TIME & EFFORT - The Self-service feature allows your pet to independently drink as much water as he/she wants, without the need of you to give them water! They simply press on the device and clean water will shoot up!
 HIGH QUALITY GUARANTEED - Heavy-duty manufacturing for long life; Brass valve instead of a cheap plastic one; Sturdy hose, Durable painting ensuring high rust resistance
 UNLIMITED SUPPLY - Our built-in reservoir provides a steady, enticing stream of water to keep your 4-legged friend properly hydrated. The free-flowing fountain constantly offers an enticing drink for your furry friend and is backed up by a 50-oz.
SHIPPING GUIDE:
Due to high demand, please allow between 8-15 days for shipping. However, our customer service team will keep you updated via email on your package and we will send you your tracking number when that becomes available. You can visit our 'track your order' page to constantly check up on your package!
30-DAY NO QUESTIONS ASKED MONEY-BACK GUARANTEE ✅
Buy with complete confidence! If you purchase one of our products and either do not like it, can't find a way to install it, or find it defective in any manner, simply return it and send it back for a full refund.